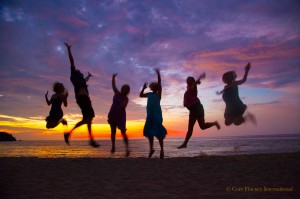 Experiential Spanish Instruction
Off-Road Adventure
Personal Empowerment
Authentic Travel  & New Experiences
"The Core Fluency Course in Sayulita was exactly what I needed: a contextual setting to take my Spanish to the next level, a beautiful beach, a passionate teacher, and a welcoming, small town. What more could you ask for?"  – Lindsey Masterton, 2012 student
SIGN UP for our EMAIL NEWSLETTER & you'll be the first to hear about UPCOMING TRIPS!
Core Fluency Abroad is for students who want to have quantum leap results with their language acquisition, for people who want to enhance their travel with language instruction, and for those looking for a fun, challenging, and adventurous way to learn  – and never forget – Spanish.
CORE FLUENCY ABROAD includes:
group language instruction: We get a lot accomplished each week!  You will have intense, comprehensible,  and fun instruction in a classroom setting (using Comprehensible Input methods), where we will teach the new word structures, grammar, verb tenses, and make everything very clear and put it into context.  Group classes will meet once or twice per day.
activity-based instruction: We also get out of the classroom! You will receive guided instruction as you do experiential activities in the local communities (navigation exercises, scavenger hunts, shopping outings, restaurant activities, interviews with locals, photography and map activities, observation and writing exercises, activities in the street, on the beach, in stores, in markets, at fruit stands, on buses, in taxis, on coffee plantations, and in the rain forrest).  Our activity-based classes are where you put the Spanish to use, where you have those ah-ha moments, where you find what you do and don't understand, and when it gets solidified in your mind, memory, body, and subconscious.  At least half of the day is spent in activity-based instruction.
immersion in Spanish:  Although we will explain and teach using English in addition to Spanish, you will be immersed in a different culture where you will constantly see and hear Spanish, as well as see and be part of a different culture.  You will be able to simply listen or be able to practice your Spanish as much as you feel ready to do, with the teacher, the other classmates, and with anyone in the hotel or the town.
reading, writing, speaking, & experiential assignments in the community: You will interact with the community in various ways and we will teach in a variety of ways to reach your best learning method, to improve your fluency, and to EMPOWER YOU to feel more comfortable to travel and to communicate in Spanish.
authentic, culture-based, international experiences: Spanish will be taught in the context of: cooking, shopping, map reading and giving directions, eating & drinking, interviewing locals, meeting families, optional home-visits, optional tours and local classes.
off-road adventures:  You will have the time and space to be involved in both outdoor adventures and city adventures – some are part of classes and some are done with class members on your free time.  Outdoor adventures include: boat trips, snorkeling, fishing, hiking, ocean swimming, zip-lining, waterfall or butterfly garden visits.  In-town adventures: navigating a new city, meeting locals, observation & photography assignments, scavenger hunts in town, daily errands and shopping, yoga classes in Spanish, and many more adventures to practice Spanish in everyday situations.  Sometimes there are even surprises (such as these from the last two years in Sayulita):  a Zumba class in Spanish that we joined with the local ladies, a late night beach dance party with live Cumbia bands, or an invitation to get coffee or have a traditional seafood dinner with locals on the beach as the sunset!
Core Fluency Abroad provides the best possible way to acquire Spanish quickly and unforgettably: acquire a language in the Core Fluency method AND have immediate opportunities to practice what you have learned.  You will also find the perfect mix of: classes, guided activities, and free time for personal exploration, relaxation, & enriching experiences.  The cultural experiences and adventures enhance the language classes, and the language training enhances the travel experience!
See photo albums from past trips below: